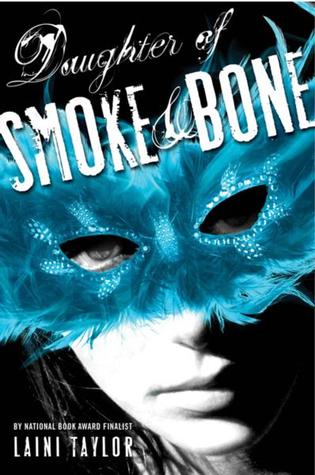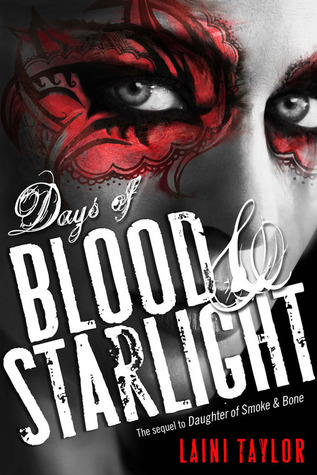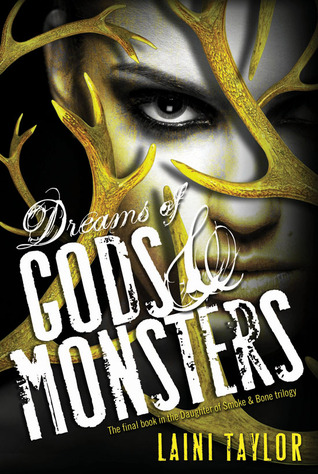 *
Once upon a time an angel and a devil fell in love.
It did not end well.
And so it begins. The very first sentence of the very first book of the Daughter of Smoke and Bone series. I was in love. I remember reading this series for the first time – or rather, reading the first two books (I was rather late to the party) and then waiting waiting waiting for that final book. I fell in love immediately. Like, in the wait for Dreams of Gods and Monsters I have literally thought multiple times "I cannot die today because I can't die not having read Dreams of Gods and Monsters."
So recently I've reread the entire series, which is all Ellis' fault. She started tweeting quotes and really I HAD NO CHOICE. But so I decided to binge reread the series because why not and then I decided to post about it because I will always want to fangirl about this series.
There are just so many things I love about this series. I don't even know where to start. The fantastic characters? All of these characters have made a lasting impression on me – mysterious Karou, rabid fairy Zuzana, adorable Mik, lucky Ziri, wise Brimstone, "sweet girl" Issa, tortured Akiva, smiling Hazael, fierce Liraz. Their characters are so complete, so believable to me; they're almost real. Karou's character growth is amazing.
Karou wished she could be the kind of girl who was complete unto herself, comfortable in solitude, serene. But she wasn't. She was lonely, and she feared the missingness in her as if it might expand and… cancel her.
– Daughter of Smoke and Bone by Laini Taylor
In Daughter of Smoke and Bone, Karou isn't whole. She misses something. And let's be real, haven't we all felt like this sometimes? Wishing we could be stronger, but secretly… craving something? She's lonely, she wants something, but she grows. She discovers herself and loses herself and through strength and grief and despair and darkness she learns. And she becomes who she was always meant to be. She goes through so much, and my heart just aches for her, but she learns.
She had to be her own strength, complete unto herself.
– Days of Blood and Starlight by Laini Taylor
The other characters are simply amazing too. There's Zuzana, rabid fairy Zuzana who wears platforms so she can reach the top of her soul, who will always want chocolate and fears no one. Tiny neek-neek. Adorable, kind Mik, with his violin. He has no need of the chimaera language, because his music transcends barriers. When he plays, the monsters listen.
Zuzana had learned to recognize his signature pieces, and this was the Mendelssohn that always raised the hairs of the back of her neck and made her feel happy and sad, salty and sweet at the same time. It was big and intricate, kind of… cute in some places, but epic in others, and wrenching, and Zuzana, standing back and watching, saw the change it worked on the creatures arrayed around her.
– Days of Blood and Starlight by Laini Taylor
So many favourites in this series. Lucky Ziri, luck friction, and oh, Liraz. She's one of my all-time favourite characters. Fierce, strong, icy. Hands black, marked by deaths she once took pride in but now has learned to hate. "She wore her ferocity like armor" – that's Liraz. I can't even say a lot about her – I don't have words. But she is amazing. Her character arc and just her character in general will always stay with me.
What has always struck me when reading these books is the writing. Taylor's prose… it's otherworldly. I honestly don't know how she does it, but Taylor weaves some kind of magic into her prose. It's gorgeous, bordering on purple sometimes but raw, and honest, and completely fits the story and the characters. She has a way of describing things, of using similes and metaphors that just feels magical. It's beautiful.
But then I think that perhaps the most important aspect of this series is how layered it is. There are people who think that YA is in some way "unworthy", that it's all flat and has no themes or important messages. Those people, of course, are wrong (everyone's entitled to their opinion though). The Daughter of Smoke and Bone series is just one of the many reasons why. If I were asked to give a summary of this series, I could say two different things:
1. It's a series about a girl who falls in love with an angel, and discovers she may be more than she thought. However, their love is forbidden and they find themselves on opposite ends of a war.
2. It's a series about hope, and good and evil. About how hope prevails, and how it can get you through anything. About how nothing is more powerful than that hope, and that dreaming of a better world and being the change can be successful. It philosophises about the concepts of 'good' and 'evil' and what they really mean, and whether someone can be truly good or evil. Whether evil actions can be good if it's for the greater good. It's about the concept of war and how gruelling it is. The impact it leaves on you, and how long it takes to let those collective wounds heal. It's about whether a vicious cycle of hate can be broken, and how. If it's possible to love the enemy and be loved despite your past deeds. About forgiveness and hate, and above all, hope, hope and belief in a better world.
      Have you ever asked yourself, do monsters make war, or does war make monsters?
– Daughter of Smoke and Bone by Laini Taylor
Because that, for me, is really what made that lasting impact. Because these books have themes, gorgeous ones, important ones, and it inspires me to hold on to my own hope. And that, I think is really important.
–
So, this post has been a bit of a mess. It's not really a review, more of a love letter, I guess. I just wanted to share my love for this series (and of course I hope I've inspired some people to try it). I could honestly talk about this series all day, but this post is long enough as it is. That just leaves me to say:
Hey, Laini.
I love you.
– Celine
The following two tabs change content below.
Celine is 17 years old and from the Netherlands. Quite obviously, she loves books! She has been a reader for as long as she can remember, and she believes she will be a reader forever. Celine is also obsessed with food, and loves singing along to music as loud as possible, dancing and doodling on nearly everything.
Want more posts like this?