This meme was created for YA Midnight Reads to showcase our latest hauls and what's been going on in our lives.
Latest Happenings
Celine
*clears throat* Um, hi… Do you guys still remember me? 😛 I've been really absent lately, for which my apologies! I've been dealing with some *situations* in real life and haven't had much/any time or energy for blogging (or even reading!). Aside from that, I've been working my ass off and am now finally able to afford a new laptop for university, which I'll be  starting next month! (HOW?! It is NOT August. Je refuse.) I'm planning on getting a Macbook Air, AKA my new true love <33 (don't tell this to my boyfriend, though) I'm also exhausted because of all this working (worked a lot of early mornings, so serious lack of sleep over here), which is why I'm very happy that I'll have a couple of weeks of starting this Monday 😀 I'm planning on enjoying books, the weather, and long beach rides with my horse. Oh, and if anyone has some recs (summery, beach-y, or just plain amazing books), those are very welcome!
Mel 
I just came back from watching Paper Towns with my friends and guys… I LOVED IT. Some of my friends were 'meh' about it but I found that it was really true to the book and I maaaaay have even liked it a bit more than the book, whoops. Also I totally flailed when Ansel Elgort showed up – who knew he was going to be the cashier dude! I think I laughed too much but Q, Ben and Radar had the best dynamic of ever. And Ben… oh my gosh he cracked me up so much I'm pretty sure the whole cinema was giving me judge-y eyes. Whelp.
I've been in a cooking phase of the late. I think the boredom that I experienced over the school holidays triggered it, and now I have pretty much just become obsessed with cooking. I guess it was a good idea to take Baker's as an elective at school. xD I have made brownies, pizza, apple crumble and stirred custard, blueberry muffins and probably the thing I am most proud of is the strawberry mascarpone trifle.
In other exciting news my new throw pillow arrived! (Pictured above.) I have been obsessed with all things from Society6, particularly things by BookwormBoutique. They basically sell a lot of awesome relatable bookish things in the form of clothing, mugs, throw pillows etc. I have also bought a laptop sleeve which I am waiting to show up soon.
Recent Reads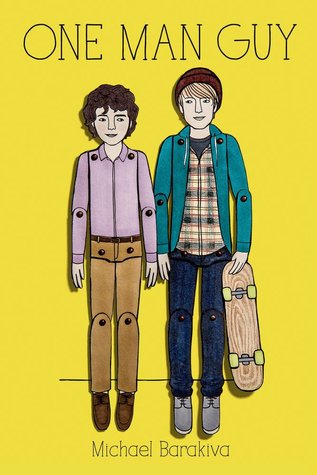 Read by: Celine Rating: 4.5 | Read by: Melanie Rating: 5
Posts on the Blog
Newest Arrivals
Celine
Because I've been saving for my laptop, I haven't bought *any* books lately. Can we all be proud of me for a moment? I didn't know I could do it. However, a while back the absoluely fabulous Ellis gifted me The Piper's Son, for which once again an enormous amount of thanks <33
Mel 
How to Be Happy: I got an email from Text Publishing talking about how they have some YA non-fiction releases coming up and when I saw this one, I got really curious! I don't read a lot of non-fiction because it normally just goes in one ear and out the other but I feel like I will enjoy a good memoir. Fingers crossed!
The Wolf Wilder: This is the new book by Katherine Rundell. I bought Rooftoppers a few months back after hearing how amazing it was, so this was a nice surprise! I can't wait to begin this.
Stray: Whoooooop! I seriously enjoyed Spark when it came out last year and my hopes are high for this one!
Magnus Chase and the Sword of Summer: HECK YES. I got this one in the mail on Friday and was glued to it till Saturday. This was my number 1 most anticipated read of the year and it delivered, obviously. You can find my brief thoughts here. I plan to do a pre-review and a full review sometime soon. And there's a photo of me taking a book selfie (sort of… it's only like 1/2 of my face) with it.
~Thanks PenguinTeen Australia, Bloomsbury Australia, Text Publishing Australia and Walker Books Australia for the review copies!~
Current Giveaways
That's it for this week! Have you watched Paper Towns yet? Anything interesting happen to you in the past week?
The following two tabs change content below.
Melanie is one of the totally fabulous bloggers at YA Midnight Reads. She's a 16 year old student from Melbourne, Australia. She is normally found binge watching TV series, reading , blogging, procrastinating or fangirling about how Percabeth is the best ship ever. She's also a lover of caps lock and uses it excessively.
Want more posts like this?