This meme was created for YA Midnight Reads to showcase our latest hauls and what's been going on in our lives.
Latest Happenings
Mel
I've spent about 80% of my week in bed being incredibly sick, so you could say I've had a crappy week. I've come down with some kind of virus which I also passed onto my mum (sorry, mum!) and man, it is just so bad. I've got a blocked and runny nose, hella sore throat, fever and throbbing headache. On the plus side, I watched a bunch of chick flicks on Netflix and finished another season of Suits while lounging around in bed. CAN I JUST SAY THAT I SHIP DONNA/HARVEY AND RACHEL/MIKE REALLY, REALLY HARD? I'm starting to like the show more and more and I cannot wait to see what Season 3 brings.
Of course, later today I am going to start freaking out about all the work I've missed over the past week and am going to wonder how on earth I'm going to get my life back on track. But let's do stress about that later, right? RIGHT?! *panics slightly at the thought of all the work*
Also, I've started decided to start using my Goodreads account a little more again. I've been a bit lazy over the past two months and didn't update it so if you're my friend/follower on there, expect a whole slew of reviews from me on there, heh.
Larissa
Wooooo! It's the long weekend right now for me and that's just giving me time to actually have a social life again. And just plan my life really. Today I spent the day registering for university courses, both my fall and winter semesters. I'm taking my required Law & Society courses, Philosophy, Sociology, Psychology, Mircoecomics, Political Science, English, Greek Mythology and Geology. Ahhhh. Gonna be so much work but I'm beyond excited.
Tomorrow (Saturday) I'm heading to a Trampoline Park! I think it's just not my city that has this?? But basically think of an huge gym that just has a bunch of trampolines connected together. Activities at this place include dodgeball, vertical vollyeball, basketball…etc. Now this place offers these activities in the normal lighting but also in the dark complete with glow in the dark paint.  So excited. On Sunday I'm going out with my best friend. Wine & cheese night while crying over boys. Fun stuff.
Monday, I'm seeing yet another movie. Pitch Perfect 2. Ehhh, I know I should be excited as I loved the first one but right now I'm just not. It seems like a complete re-hash of the first movie. Who knows though, Anna Kendrick and Rebel Wilson are awesome so maybe I'll be surprised. Other movies I've seen recently are Age of Ultron and The Age of Adaline. I actually quite enjoyed Age of Ultron (a lot more than anticipated) and am so excited for Civil War. BUT OH MY GOD AGE OF ADALINE GUYS. I cried. It was so cute and well done in my opinion. I'd give it all of the stars.
ALSO. I'm graduating on May 28th. Oh my god, I can't believe I'm going to be done highschool. It's also the date of my prom. I'm so excited to wear my red dress and just dance the night away. It's going to be so much fun. And after the prom me and my friends are definitely going to hit up this milkshake place next to the school. Naturally.
Recently Read
Read by: Mel Rating: 4 | Read by: Larissa Rating: 1 
Posts on the Blog
Newest Book Arrivals
Mel
The Start of Me and You: ASDFGHJKL; DOESN'T THE COVER LOOK GORGEOUS?! And it was totally not the reason why I bought it… 
The Conspiracy of Us: Another one of my impulse buys. I've seen this one a lot on Goodreads and it seems like something I would enjoy!
I'll Meet You There: Pretty much everyone has given this either 4 or 5 stars so this was a MUST BUY.
Under a Painted Sky: Larissa read this one a while back and I remember her loving it so I couldn't resist!
An Ember in the Ashes: The hype got to me, guys *sobs*
Saint Anything: YAY for another Sarah Dessen book! I cannot wait to see what she has in store this time.
Bomb: I've never heard of this one before but the author does ring a bell so I am definitely planning on reading this one one day.
Pieces of Sky: HOLY GORGEOUS COVER ALERT. The excitement to read this one is real.
Cherry Blossom Dreams: I hadn't heard of this one until now – I do believe it's a middle grade novel? Looks hella fluffy.
Shards of Hope: Ooookay… I have a feeling this is an adult novel that's the 14th of a series or something?? *slow blink*
Those Girls: Back stabbing girls… this could go very well!
The Witch Hunter: Once again, I blame ze hype.
A Step Toward Falling: I saw this one up on Edelweiss along with all of Harper's other eARCs and I decided to download this one because I really liked her debut novel, Say What You Will. 
~Thank you HarperTeen, Poppy, Little, Brown Books for Readers, Machete Australia, Allen & Unwin Australia, Penguin Australia and Bloomsbury Australia!~
Larissa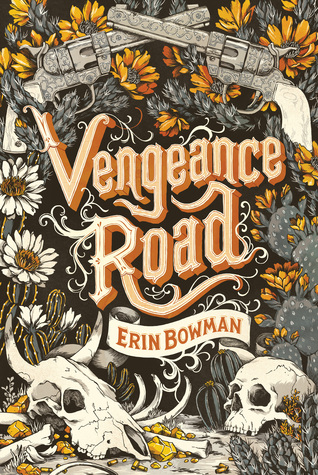 Everything, Everything: So much hype surrounding this one! Ahhhh, I'm super excited to read this one.
Silver in the Blood: I'm like 70 percent into this one already and loving it. It's a little different than anticipated and certainly more historical than anything else but I adore it so far.
Vengeance Road: !!!! This is one of my most anticipated novels of the year. I totally adore the cover and the Wild West? Yes.
~Thank you Random House Children's, Bloomsbury USA and HMH books for Young Readers!~
Current Giveaways
So that's a wrap for now! Did you receive any exciting arrivals lately?
The following two tabs change content below.
Melanie is one of the totally fabulous bloggers at YA Midnight Reads. She's a 16 year old student from Melbourne, Australia. She is normally found binge watching TV series, reading , blogging, procrastinating or fangirling about how Percabeth is the best ship ever. She's also a lover of caps lock and uses it excessively.
Want more posts like this?