The other day I was just staring at my shelves, as one does, when I noticed that on my read pile, I had a lot of review copies that I never ever ended up reviewing. Like A LOT of unreviewed books. So two things happened after that:
1) I freaked out because my gawd Mel you are a terrible terrible blogger and then
2) I came to my senses and thought… I'LL JUST SPAM EVERYONE WITH A REVIEW POST FEATURING ALL THE BOOKS. And a giveaway because I luff you all. (Yes, it's INTL open. SEE?! I CAN KEEP PROMISES.)
I suppose the main reason why I left these books reviewless is because I had very little to say about them (most of these I didn't like) and I somehow forgot about them completely in the midst of school and exams from last year. BUT I PROMISE. I will be much more organised this year *nods*
Anyhoo, this post consists of a total of 18 mini reviews for books from a whole array of genres. I want to give huge hugs to Random House UK, Penguin Australia, Bloomsbury Australia, Pan Macmillan Australia, Scholastic Australia, Hachette Australia and Thames and Hudson Australia for providing these review copies and for not mincing my body since I didn't review these books earlier. (Okay that was a bit dramatic but I'm in a dramatic mood today so DEAL WITH IT PEOPLE.)
So yes, let's begin.
Curious Contemporaries
Girl Online by Zoe Sugg | DNF | Goodreads | Purchase 
When this book arrived in my mailbox I actually had no idea that this book was written by a "celebrity". Anyway, I soon found out that Zoe Sugg was actually known as 'Zoella' who is a YouTuber and I watched some of her videos and they were pretty cool. I can definitely see why she's become an inspiration to so many others. Unfortunately, Girl Online didn't really reflect much. Instead, I was given a generic story line that was so very predictable.
So predictable to the point where I could almost guess exactly what the main character was going to say when she opened her mouth. Yup.
Furthermore, this book felt awfully "childish" to me. I'm not trying to be condescending or anything but the narrator's voice felt more like a 12 year old as opposed to the 15 year that Penny is meant to be. And this is coming from someone who is a 15 year old (me).
Despite that, the main reason why I actually ended up DNFing this book was because of the great and terrible: instant-love.
Then I do look up, and for a split second we're staring into each other's eyes. And click—I feel another part of me slotting into place with him.
That GIF sums it up just about right. Just NO NO NO.
Breaking Butterflies by M. Anjelais | ★ 1/2 | Goodreads | Purchase 
My feelings are very… mixed on this book. While I really didn't like it in the end, the writing was absolutely gorgeous. I could eat M. Anjelais' writing for breakfast, lunch and dinner if books were edible. Another reason why I should have loved this? It dealt with mental illness. Yes, this Mel loves all the deep and dark stuff. Unfortunately, the plot and characters was were this book was lacking.
This book was incredibly disturbing. Basically we have two women who agreed to have a child each; a girl and a boy and when the girl and boy grew up, they would marry each other so the two women could be grandmas together. And so, that's exactly what happened. Except there's something that's wrong about the boy (Cadence). He pulversied a butterfly when he was young and he even hurt Sphinxie (the girl) with a knife, which left a glaring scar on her. Cadence is a sociopath. At that point, I thought: "Okay… this could be incredibly interesting and unhinging." But I really struggled with this book because I was having a hard time believing what the author was feeding me. The characters didn't feel authentic at all–Cadence included. I was constantly annoyed at Sphinxie's decisions and actions which made me want to rip my hair out. She wants to look after Cadence, but at the same time she fears him? WHY DON'T YOU JUST GO AND GET SOME HELP.
In the end, I just didn't really understand what the point of the novel was. Was there even a moral to the story? I strongly think not.
Broken Strings by Maria Farrer | ★★ | Goodreads | Purchase 
A book with a strong music presence? HECK YES this book had my name all over it.
Here's something you should know about me: I am obsessed with music. I play piano and am currently in Grade 8. This year, I've started to self-teach because it is just so much less stressful. I used to play percussion, flute and the clarinet and my uncle taught me a bit of guitar when I visited China. I used to play the recorder too (but really, it's like a requirement in primary school these days) and I also learned the ukulele for about 3/4 of a year in Grade 6. You could say that I'm very music involved, so yeah, I had a lot of expectations for this one.
Anyway less about me, more about this book.
Broken Strings follows 17 year old Jess who just blew the most important violin audition to gain a scholarship at one of the most prestigious music schools (think something like Julliard). But one day, her grandmother comes knocking at Jess' house with a second chance to play along with some of the greatest musicians ever. ISN'T THAT AMAZING? A second chance. Not everyone gets those. Yet still, Jess ends up wallowing in the corner with self-pity and is pretty much ungrateful and bitter about everything in her life for the rest of the novel. I mean, seriously, Jess? You're life is so much more decent than other people's. You get a bed, shelter, food, a freaking second chance, and people who care about you. SO WHAT IS YOUR PROBLEM?! Jess was the sole killer of my enjoyment towards this novel, and she didn't act like a mature 17 year old AT ALL. As my mum would say: "How about we go on a holiday to Africa and see how you like it?"
OH but let's talk about the romance. Oh god. THERE'S A FREAKING LOVE TRIANGLE. HOW ON WORLD DOES JESS HAVE TWO GUYS FALLING FOR HER?! It makes no sense. Her personality is horrifically ugly, so I don't see how anyone could possibly be attracted to someone like her. Unbelievable.
Despite my constant rage over how terrible Jess was as a character, I still found the story line to be mildly intriguing. It was the only reason why I wanted to keep on reading, to be honest. But, when you add up the pros and cons, the cons totally weigh this book down.
Summary in two words? Don't bother.
Searching for Sky by Jillian Cantor | ★★★★ | Goodreads | Purchase 
If you want a book to mess with your emotions, I suggest you turn to this book. 
Sky and River have lived on the Island all their life. Survival is all they've ever known and life is good until River spots a boat approaching. They soon discover that just across the ocean lies California, and they are whisked into a world of technology and sophistication.
There's something incredibly beautiful about Jillian Cantor's writing, and I love it so very much. She perfectly depicts the trauma and confusion and feeling of not belonging and never shies away from those feelings. This book left me completely raw and it seriously damaged my heart. Searching for Sky is a sad, but also utterly gorgeously magical novel. I highly recommend it.
As Stars Fall by Christie Nieman | ★★★ | Goodreads | Purchase
Pros: As Stars Fall is narrated by 3 different protagonists: Robin, Seth and Delia. All three voices were incredibly distinct from one and another. I particularly loved Robin's narration. I think I clicked with him the most because his was the only POV that was narrated in 1st person and his personality was brighter and evidently more vibrant than Delia and Seth's.
The writing was absolutely gorgeous. I mean, it's Aussie YA! What more can you expect? Aussie YA has this special flare to it, and this novel was no exception.
Cons: Despite the fact that the writing was gorgeous, it sometimes became a little too wordy. The descriptions did go overboard at times and I found myself skimming them constantly.
Another thing that I was skimming constantly was Seth's POV. He's a very closed off character and while I can understand that he's having a rough time with all the grief that is clouding him, all he does is get drunk and high for majority of the novel. ._.
The One and Only Jack Chant by Rosie Borella | ★★★★ | Goodreads | Purchase 
I'd like to ask two questions: why didn't I know about this book earlier? And why hasn't this book received more recognition? 
I received this book nearly a year a go and it has taken me ONLY FOREVER to get to it. This novel was absolutely beautiful and a nicely crafted tale that dealt with topics that should be addressed more often. Getting old, dying, living and accepting. THIS BOOK HAS ALL THE DARK AND PROFOUND GOODNESS. Except, this book isn't just dark and profound;  it could be amusing at times as well. And insanely beautiful. There are characters you want to root for and the secondary characters aren't any less fantastic than the main character. Also: MATURE PROTAGONIST! Faith in YA: restored.
Now go, go, go! Grab a copy and you can come and thank me profusely later.
Love Hurts by Malorie Blackman | ★★★ | Goodreads | Purchase 
Doesn't this have such a lovely cover? It reminds me of those heart shaped lollies that I used to be addicted to.
So let me break it to you now: this book actually consists of lots of excerpts from already published books. I KNOW. Imagine my face when I found out.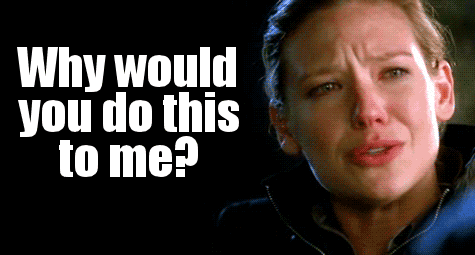 Anyway, I still enjoyed this book nonetheless. It's an anthology made up of lots and lots of love stories and extracts. If I had to sell this book with one word it would be: DIVERSITY! But seriously guys, this book is insanely diverse. There's all kinds of love here, some are sad, some are happy, some are amusing, some have LGBTQ themes etc. You get the point. This anthology had it all. If you enjoyed My True Love Gave to Me, then I certainly recommend you give this one a go because it was a lot of fun to read through.
Refreshing Retellings
The Rapunzel Dilemma by Jennifer Kloester | ★★★ | Goodreads | Purchase 
I haven't read a lot of YA contemporary fairytale retellings so this was an incredibly fun one indeed.
Unfortunately, that is the only way to describe this book: fun. I would've appreciated more depth or complications but it's a rather straight forward novel and that does benefit in a few ways–especially this being a novel of only around 300 pages. I mean, too much drama just causes the plot to go real messy, that that wasn't the case here. Aside from that, I really struggled to connect with the protagonist, Lily. She's very… spoiled. And very very rich. She gets everything given to her and even in the real world, she totally struggles to look after herself and there's always someone else there to save her which just didn't sit well for me. Sure, she did grow to be a better person in the end but for majority of the book, I was constantly irritated with her.
If you want something light and quick and don't mind rich and spoiled narrators, this is still definitely something you should check out. 
Sun and Moon, Ice and Snow by Jessica Day George | ★★★ 1/2 | Goodreads | Purchase 
I have never read a Norwegian fairytale retelling before so this was incredibly new to me. It's based off this folklore called East of the Sun and West of the Moon with a splash of Beauty and the Beast. 
This story was an incredibly enchanting and beautiful one, indeed. I did feel that it moved a little too slow but the gorgeous writing made up for that completely. George's writing feels almost magical, and I totally ate it all up.
Love you always, miss you always… running day and night, leaving the place of sun and moon, of ice and snow.
Never look back, never forget.
I absolutely adored Lass. She isn't a total badass or all that strong, but she has a loving heart and a sweet spirit. She's always looking out for her family and I feel as if I haven't met many characters like her before.
I will say that I wasn't as convinced about many of the other characters in this book. I remember reading a lot of reviews a few months back saying how the romance was swoon-worthy but I didn't feel particularly moved by it at all, which was unfortunate.
Humdrum Historical Fictions
Paper Planes by Allayne L. Webster | ★★ 1/2 | Goodreads | Purchase
This is a novel that takes place during the Bosnian War–now, I am not what you'd call a history geek (because I hate history so goddamn much *whispers* please don't hate me) but it was still really interesting to find out more about this period of time.
However, like most people have pointed out, this book is probably aimed at the lower middle grade level. Our protagonist is about 12 years old of age–though he did feel younger than that on several occasions with how 'childish' he felt. Perhaps the author was trying to illustrate the innocence of Niko? I honestly do not really know, but he did not really sit well with me for a narrator.
Despite that, the author put in a great effort to show the devastation and destruction that war can bring to families and loved ones. While I didn't feel much emotional attachment to anything in this book, it's perfectly suitable for younger children who want a good war story.
The Seventh Miss Hatfield by Anna Caltabiano | DNF | Goodreads | Purchase 
I honestly do not have much to say on this one at all because it has got to be the most bizarre novel I've ever read (or tried to read). Basically, Cynthia has a mysterious neighbour called Miss Hatfield who invites her over for a drink. What Cynthia doesn't know is that Miss Hatfield is immortal and Miss Hatfield slipped a drop of water from the Fountain of Youth into Cynthia's drink. Now, Cynthia is immortal like Miss Hatfield and is destined to become the next Miss Hatfield (I mean really, wtf). But before that, Cynthia must go back in time to a few centuries back to steal a painting which might help find where the source of immortality comes from. Along the way, Cynthia falls in love (because why not) but oh no! the guy she loves is engaged with someone else. *face palm* I've recently acquired a lack of patience with books and this is a prime example of why. The story line just made no sense to me, and several parts in this book I had to put it down because I struggled to get through it. I get what the author was trying to convey through her writing but the plot line wasn't really helping me want to continue.
Haunting Violet by Alyxandra Harvey | ★★★ 1/2 | Goodreads | Purchase 
I'm becoming to adore Alyxandra Harvey's novels more and more. I was quite a fan of A Breath of Frost and while Haunting Violet wasn't as good, it was still significantly better than many other historical fictions that I have read. Why reasons why it worked?
1. It's actually the funnest historical novel I've ever read. AND IT HAS ALL THE FLUFF. We need more light hearted historical fiction in YA. Everything historical fiction seems to be always linked back to war, which is great, but that was not the only thing that happened centuries ago.
2. There's no annoying love triangle and the romance was seriously cute and developed realistically. Colin makes everything 10 times better.
I tried not to look as if I was hiding a handsome young lad under the mattress.
3. There's a murder mystery involved. MURDER MYSTERY! My favourite sub-genre since forever.
4. Mediums! Seances! Fraud! I picked this one up because it reminded me a lot of Born of Illusion by Teri Brown, so if you've read that book, this is totally your thing.
Dull Dystopians
Crash by Sean Williams | ★★ | Goodreads | Purchase 
Crash (aka Crashland) is the second book to the Twinmaker series, and while it didn't feel like a book that suffered middle-book syndrome, everything about this book is best described as "okay". In other words, nothing here really did stand out. Crash doesn't deliver anything new to the table; it's your average sci-fi with a fascinating story line, and a lacking plot and characters that I struggled to root for. Clair's a girl that I definitely felt for at times, except it'd quickly escalate with her doing something stupid and highly questionable. What I did find interesting was how this book touched on the involvement of technology in our lives through the Improvement which basically makes you look like a better version of yourself. This was probably one of the only pros, for there wasn't any further development in ANYTHING else (characters, world building, plot, relationships), which was frustrating. The book does end off on a cliffhanger once again, so I might pick up book 3 since I've already made it to book 2.
The Jewel by Amy Ewing | DNF | Goodreads | Purchase
After the early reviews started rolling in for this one I was getting less and less excited about reading this one. I mean, JUST LOOK AT THE COVER! HOW COULD I NOT WANT TO LOVE THIS?! Anyway, I had this period of time where I just decided that I was going to skip this completely, BUT THEN I saw three people give this 3-4 stars and they're all people whose reviews I completely trust… and well I gave in to the cover and read it. Well, I didn't really read it. I more like, barfed through it.
I'll give the book this: it was a light and fast read. I was almost finished by no time but then figured that there was no longer any point so I DNFed it after Ash and Violet just started overly-infuriatingly cheesy. (Note that they were already infuriately cheesy and instant-lovey beforehand.) The instant love is actually so bad.
This is when they first meet
I can only stare. His mouth curves into a full smile and I feel my lungs contract, making it very difficult to breathe.
And then just moments later when Violet is alone, staring at her beauteous self in the mirror
I've never thought much about kissing, but the idea of Ash's lips against mine–
I giggle.
Oh and then later at that night intense staring ensues
I look up and meet a pair of bray-green eyes, no longer soft but blazing. Ash doesn't look away, and neither do I. His gaze is fierce, and open, and it makes me feel alive. He isn't looking at a surrogate–he's looking at me. 
I mean really, no shit he's looking at you. *eyeroll*
It's only been a couple of hours since I met him, but he's somehow even more handsome than I remember. My whole body feels like it's blushing.
I CAN'T DO THIS ANY LONGER.
Anyway, if you like the whole X meets Y thing, the best I can give you is The Hunger Games meets The Selection. That being; the excellent potential of The Hunger Games but actually just as bad as The Selection. 
I'm done here.
Celine did a full review on the blog and it's 10000 times better so you should check that out.
Flimsy Fantasies
Otherbound by Corinne Duyvis | ★★★ | Goodreads | Purchase
I'm actually incredibly confused to why I never ended up review this one because I enjoyed it quite a lot and it deserves so much more notice in the reading community. If you want an incredibly diverse sci-fi that's executed exceptionally, this is one you want to pick up. Race, disability, sexuality–this book has it all and the author dealt which each one with so much effort and represented them fairly. This one is an important novel, and while the characters didn't move me and the plot was slightly lacking in places, I definitely recommend this. 
The Peculiars by Maureen Doyle McQuerry | DNF | Goodreads | Purchase 
Liars…such LIARS.
I was told that there was steampunk…BUT I DIDN'T GET ANY. There was what, one tiny, minuscule aspect that could've been considered as part of the steampunk genre? But other than that, this was your average fantastic fiction novel. Actually, quite a below average read.
Not only was the pacing was irritably slow as the scenes were awful long and boring but also Lena was infuriately annoying–she got jealous when she found out that Jimson, a guy that she just met (who also has a terrible name) was engaged I mean woman! Seriously? Not every guy you lie your eyes on if your boyfriend. Furthermore, this is one of those books that spoil everything in the chapter titles. What a way to ruin, suspense, right?
Conjured by Sarah Beth Durst | DNF | Goodreads | Purchase 
I think this book was a bit of a "me" issue. I mean, THE PLOT LINE SOUNDS SO AWESOME. Unfortunately for me, this book wasn't getting anywhere plot-wise. I've read a few reviews of this one beforehand and they all said that not much happens until much later in the book, and I must agree, for majority of the book, I was utterly bored. I DNFed this one around half way through because Eve, the main character, lacked so much dimension. I get that she's a completely new person because of the Witness Protection Program but that doesn't mean she has to be a blank slate for the entire novel. I do know a number who did love this one, so don't let my judgment weigh too much here. 
Starry Nights by Daisy Whitney | ★★ | Goodreads | Purchase 
I originally thought this was a contemporary read because that's exactly what the cover screams, but when paintings start coming to life? You figure it's a fantasy (or a contemporary with magical realism in it, I'm no expert on determining genres) pretty soon. I think what killed it for me was how lacking the descriptions were. I was pretty pumped about reading another book set in Paris, but I didn't get that. Whitney doesn't really spare any effort to make this feel like a book set in Paris. There weren't any qualities that made me feel like it was set there; it could have been set in the Sahara Desert for all we know.
Starry Nights was incredibly disappointing, and I honestly don't think I can recommend it. Perhaps people who appreciate art could look into this one, but it's not a particularly memorable read, in my opinion.
I won't lie, this was an insanely exhausting (but somewhat fun) post for me to write. Now excuse me as I go tackle a tub of ice cream to cool down my brain that is currently frying itself. Oh, and you readers can go and enter this INTL giveaway that I have down below. FUN FOR EVERYONE!
La Rules:
1. YA Midnight Reads is not responsible for any lost items
2. This giveaway is internationally open
3. The winner must respond within 48 hours
4. No cheating! Duplicate entries will be deleted and you will be disqualified
The following two tabs change content below.
Melanie is one of the totally fabulous bloggers at YA Midnight Reads. She's a 16 year old student from Melbourne, Australia. She is normally found binge watching TV series, reading , blogging, procrastinating or fangirling about how Percabeth is the best ship ever. She's also a lover of caps lock and uses it excessively.
Want more posts like this?