I swear, I should probably just move my birthday to January as well because it's clearly birthday month here at YMR.
Anyhoo, today is Larissa's EIGHTEENTH birthday and it's totally a big deal. WHY? BECAUSE SUDDENLY YOU CAN DO ALL THE THINGS. No really, I've done my research and seriously girl, ENJOY THE AWESOMENESS OF THIS DAY AND EMBRACE ALL THE AMAZING THINGS YOU CAN NOW DO .
Top 3 Things a 18 Year Old Canadian Can Now Do
You can buy fireworks legally 
I don't know about you but buying fireworks? YOU HAVE TO DO IT. *whispers* Help a friend out and smuggle some to Australia for me? *puppy dog eyes*
I JUST REALLY LOVE FIREWORKS OKAY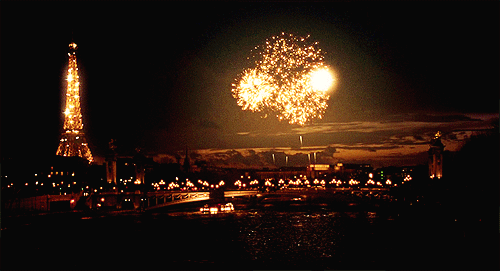 You can write a Will 
So…. *cough cough* CELINE AND I VOLUNTEER AS TRIBUTE TO HELP YOU WRITE IT.
"I bequeath Celine and Melanie all my books and food and badassery"
Sounds good? I thought so.
You know what? Now Celine and I have a motive to assassinate you so we can obtain those beauteous books of yours.
NOT THAT WE WOULD EVER DO SUCH A THING…
You can now get into biiiig trouble if you commit a huge offence aka off to jail you go 
So yes, you're no longer one of us puny teenagers. (Well you are still a teenager, but you know what I mean.) NO MORE ROBBING THE BOOKSTORE, OKAY? I know you love doing it and so do I but seriously, YOU COULD GET IN BIG TROUBLE NOW. Especially if they found out about the body…
Also it'd totally jeopardise your chance to become a kickass lawyer. AND I'M RELYING ON YOU TO BE MINE IN THE FUTURE, THE FATE OF MEL LIES IN YOUR HANDS.
Okay, now it's time for some beautiful celebrity GIFs because why not 
I SWEAR CHRIS PINE HAS THE MOST BEAUTIFUL FACE
OUR FINNICK (aka Sam Claflin)
*flails*
MISHA COLLINS' EYES OMG
When I watch the Hunger Games movies I kinda ship Gale with Katniss more because seriously, Liam Hemsworth is gorgeous <33
BUT ZAC EFRON THO
So Happy 18th Birthday, Larissa! 
HAPPY HAPPY BIRTHDAY TO THE QUEEN OF FEMINIST RANTS AND KILLER RED LIPSTICK! <333 I really hope your 18th year is the best one yet, and I cannot wait to share another blogging year with you!
Cheers, hun! (Let's pretend I am allowed drink for a minute)
Celine: So yes I really don't have anything to add but I second everything Mel said 😀 Also I just want to wish you the most amazing birthday ever, you kick-ass and super sweet legal adult, you <3333
The following two tabs change content below.
Melanie is one of the totally fabulous bloggers at YA Midnight Reads. She's a 16 year old student from Melbourne, Australia. She is normally found binge watching TV series, reading , blogging, procrastinating or fangirling about how Percabeth is the best ship ever. She's also a lover of caps lock and uses it excessively.
Want more posts like this?