This meme was created for YA Midnight Reads to showcase upcoming posts and hauls from over the past week
———
Latest Happenings
Celine
Little happened the past week because I'm mostly just reading and enjoying the fact that I have to do nothing at all. I'm off for holiday next week though, so that's nice 😀 We'll be staying close to home, and I still have internet and everything, but I might comment less on everyone's blogs because I only have my phone to do so now.
The past week I did go to the city of Leiden one day together with my mom, which was a lot of fun. It's a beautiful city and I enjoyed walking through it. Leiden has a lot of canals in the city, which I'm always a fan of! We also had an amazing lunch at the bank of a canal, which is definitely the best spot in town. We tasted a lot of different things, including sweet olives, which is the weirdest thing I've ever had. They tasted like olives, but… sweet. It was strange, but also pretty good.
Larissa
Alike Celine, this week has been pretty quiet on my end. I've done in car lessons for driving, which are coming along. I still do get nervous though which is something I'm working on (or trying to lol).  I of course worked this week, though not as much as I usually do. I actually read a lot more then I had been this week and a bit of last, finishing 3 books. Usually I only have time to read one book a week, so this is a big deal guys. Hopefully I can keep up the trend of reading and maybe get some books that aren't in the 3-3.5 star range? Ugh, that's where all of my reads seem to fall lately. I need some five and four star reads! Or maybe even a one star, at least I would have something somewhat passionate to say about it, even if it's negative lol. I also did a podcast with the lovely Faye, Rashika and Amy at The Social Potato. It was a new experience but definitely a lot of fun (:
I really don't know what to type here. Asdfghjkl. Now I'm just typing nonsense. I wish I could tell you guys more interesting things but my life has been pretty boring lately haha. Oh! I saw 22 jump street recently, which was super hilarious and I enjoyed it thoroughly. Think I liked it better than the first one actually.
Recently Read
Read by: Celine Rating: 4  | Read by: Larissa Rating: 3.5
Celine's Book of the Week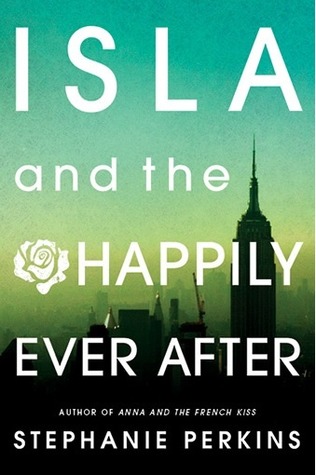 Isla is almost here! This year I read the immensely popular Anna and the French Kiss and Lola and the Boy Next Door, which I both loved. (Etiènne! Cricket!) Obviously I can't wait for Isla and the Happily Ever After, which I'm sure will be amazing. Give me more amazing ships!
Posts on the Blog
Around the Blogosphere
– Meg @ Cuddlebuggery writes an important post about slut-shaming and the importance of sex-positive YA
– Lots of people @ The Social Potato (Including Larissa!) discuss the art of commenting
– Cait @ Notebook Sisters asks if the size of a comment matters
– Aimee @ Deadly Darlings delves into negative reviews and how they effect her TBR
– Megan @ Adrift on Vulcan discusses happy endings vs. sad endings, and the one which she prefers
– Laura @ Laura Plus Books talks about repetitive discussion topics, and wonders about how we feel about them
– Jeann @ Happy Indulgence Books shares what she's learned about blogging after two years
– Wendy, Kim and Tonya @ The Midnight Garden highlight books that have contained wonderful descriptions of food
Current Giveaways
– None at the moment 🙁
That's all from us this week! 
The following two tabs change content below.
Celine is 17 years old and from the Netherlands. Quite obviously, she loves books! She has been a reader for as long as she can remember, and she believes she will be a reader forever. Celine is also obsessed with food, and loves singing along to music as loud as possible, dancing and doodling on nearly everything.
Want more posts like this?