This meme was created for YA Midnight Reads to showcase upcoming posts and hauls from over the past week
———
Latest Happenings
Mel
Hiiiii guys 😀 We Midnightians are coming back and will be posting more frequently soonish! *fingers crossed* Looks like we all end the term around the same time (though I'm quite certain I have to suffer one extra week). BUT GOOD NEWS IS NO MORE EXAMS AND ASSIGNMENTS (not major ones at least.) I've just come home from Winter Concert rehearsals in which I must sing this 50 paged song by Rutter and MY THROAT KILLS. Especially since I sing soprano. Blurgh. I also ate A LOT of chocolate lately, so I really must cut down on that. *pokes at flab* Yeahhhhh.
To all you nice souls out there: I did end up catching up on a lot of sleep 😀 Woke up at 11am the next day to my mum calling me a pig which was just lovely.
Celine
Annnd I'm almost done with school! Just one more week of hell (test week *makes face* goodbye sleep, goodbye life) and then FREEDOM. I'm really looking forward to that but on the other hand I don't have the feeling school's almost out at all. I feel like I still have to go for like half a year. And then next weekend is going to be super awesome, not just because school's over (temporarily) but also because I'm going to give a performance with my dance school in an ACTUAL THEATRE. We're going to do three shows (one on Saturday and two on Sunday) and it's going to be awesome 😀 I did it once before, two years ago, and the high you get from being on stage and dancing is amazing.
The past week has been pretty okay: of course it's busy, but there's also that end-of-the-year vibe. Twice teachers have treated us with ice cream (!!) and we also did a high tea in Religion/Philosophy class (also I call it Religion class but it's actually just watching movies and then analyzing them. I swear, it's literally all we've done for the past couple of years) because we had our last Religion class ever. We also had our last Sociology class ever, and we did the most fun thing of all: a test -.- Oh well. It's a bit strange to have all these "this was our last class ever"-things, but also freeing because it means less work next year 😀 Either way, the past week was pretty good and we had some lovely weather. Oh, and THE NETHERLANDS DEFEATED SPAIN IN THE WORLD CUP WITH 5-1 I SWEAR THIS IS A FRIGGIN MIRACLE. Just so you know.
Larissa
School is basically done for me, now all I have are exams. I've written two already, now just one to go. It's on Thursday ahhhh. So I have a lot of time to study. And by 'study' I mean work and freak out periodically, with a little bit of studying on the side [;  The end of the year pranks this year were interesting. We got a mariachi band to follow our principal around and played High School Musical on the P.A.
  I'm so excited for summer to begin, can't wait to go down to the lake! There I can swim, read and have a cute little picnic. I also can't wait to spend time with my friends outside  of school. It's hard to really connect with a person when all you see of them is in a little crammed classroom doing a dissection on a pig fetus O.o …Yes, that actually happened. Ahhhh, I can't stand dissections tbh.
Other than that I've been seeing more movies! (: I saw Maleficent and it was pretty good. I also caught up on Revenge, which a pretty captivating TV show. I really think it would make  a good book.
Recently Read
Read by: Mel Rating: 4.5 stars | Read by: Celine Rating: 4 stars | Read by: Larissa Rating: 3-3.5 stars
Larissa's Book of the Week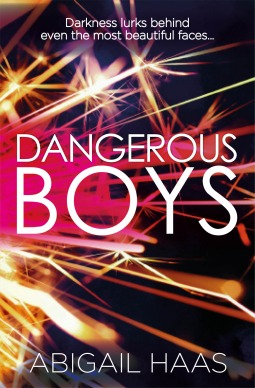 I'm super excited to read another book by Abigail Haas! Her first book I read was entitled Dangerous Girls, and it totally blew my socks off with a fast paced mystery and a mind boggling ending. This one is set for release in August 14th, but I needed it like yesterday.
Posts on the Blog
Around the Blogosphere
– Cait @ Notebook Sisters shows us the extreme cuteness that happens when she isn't reading
– Aimee @ Deadly Darlings highlights some positive and negative typical types of male leads
– Faye @ The Social Potato questions whether goodreads or your blog is more polished, and delves into the positives of both
– Wendy and Kate @ The Midnight Garden review TFIOS movie and sum up their views wonderfully
– Jeann @ Happy Indulgence  discusses why we love sad movies so much
– Megan @ Adrift on Vulcan  shares her results from a survey, which answers the questions regarding reviews and their place in the blogging world
New on the Shelves
Mel
Celine
Okay, so there actually isn't anything new on my shelves (I resisted EW, NG and The Book Depository! I basically deserve a medal for this), but I want there to be 😀 I've been thinking about giving myself a you-survived-another-year-of-school gift, so I'm going to need recs from y'all. On my list are Aristotle and Dante Discover the Secrets of the Universe and The Assassin's Blade, but I need something more to choose from, haha. So, what are some of the best books you've read lately/ever?
Current Giveaways
None at the moment 🙁
That's all from us this week! Did anything awesome happen to you? 
The following two tabs change content below.
Celine is 17 years old and from the Netherlands. Quite obviously, she loves books! She has been a reader for as long as she can remember, and she believes she will be a reader forever. Celine is also obsessed with food, and loves singing along to music as loud as possible, dancing and doodling on nearly everything.
Want more posts like this?