The Dark World

by Cara Lynn Shultz
Series: The Dark World, #1
Publisher: HarlequinTeen
Release Date: May 27, 2014
Genres: Paranormal, Romance, YA
Pages: 384
Source: Received in exchange for review
Goodreads | Purchase
Paige Kelly is used to weird--in fact, she probably corners the market on weird, considering that her best friend, Dottie, has been dead since the 1950s. But when a fire demon attacks Paige in detention, she has to admit that things have gotten out of her league. Luckily, the cute new boy in school, Logan Bradley, is a practiced demon slayer-and he isn't fazed by Paige's propensity to chat with the dead. Suddenly, Paige is smack in the middle of a centuries-old battle between warlocks and demons, learning to fight with a magic sword so that she can defend herself. And if she makes one wrong move, she'll be pulled into the Dark World, an alternate version of our world that's overrun by demons-and she might never make it home.
The Dark World  is a very difficult book for me to review. There were times in the story where I could easily give it 4 stars, and other times I could easily give The Dark World one stars. It's because of this that I would take this rating with a grain of salt. Of course all reading is subjective and I'd love to hear your own opinions of this one (:
One thing I loved in this story was Dottie! She's a ghost from the 1950s and has such a fun and enjoyable personality. Honestly, if she narrated a book I would definitely read it. Dottie's relationship with the main character Paige was also wonderful, it felt realistic and meaningful. They were truly best friends (: The issue with this lies in the fact that Dottie slowly fades away in  The Dark World. She's very much present in the beginning but after awhile the romance takes over and you don't see her amazing character as often/really even at all. It was pretty sad actually to see this friendship be whisked to the side for a mediocre romance. I'll get into the all encompassing romance soon, don't you worry.
Another cool thing about  The Dark World was how there weren't a singular type of demons involved. There were lust, wrath, fire, regent…etc. It was interesting to see what unique abilities these demons had and how they could cause havoc. Cara has also created this duo universe scenario, one of which is the normal human one and the other a dark demon one. This world was originally run by warlocks. The warlocks don't like the demons and want control of this Dark World. ….And there you go. That's all that this book explained regarding world building. For me, one weakly described info dump isn't enough for me to truly get a grasp of things. The thing that drove me the most crazy? You don't even get a glimpse of this Dark World until literally the last 10 pages of  the novel.  It felt ridiculous to me that so much time was spent in the human world with the main characters focusing on their own quibbles and romances when there's basically a war happening in the Dark World.  I mean Paige has this special snowflake ability to visit both worlds, wouldn't you think she'd use it?¿¿?? Apparently not.
By not even allowing us into the Dark World until the very end, the author just makes this story seem like a verrry long prequel to the actual story which will happen in the sequel. I feel like this concept could be very well developed and full of promise and the fact it's barely touched on in this first installment leaves me feeling ripped off and quite annoyed.
I've mentioned Paige a few times in this review, and she's the main character of The Dark World. She was quite the enjoyable narrator, witty and realistic. Though ostracized by her peers by talking seemingly to herself (when actually talking to her ghost best friend. I don't know why she isn't attracting friends by the dozens) Paige doesn't complain about it. Too much. She also seems to have a pretty good relationship with her parents. Paige understands why they would feel overprotective of her and is generally has a positive relationship with them. Her narration of the story was fairly easy to get into and I enjoyed taking a look into her mind. She didn't annoy me to no end, which is always a positive.
Then you have Logan, Paige's love interest. I quite enjoyed him. He had this tragic backstory but wasn't always so brooding and depressing. The backstory made him multidimensional and more than just the love interest of Paige. He was funny and his humor actually did manage to make me laugh at certain points. Logan was very sweet and understanding. I think he complimented Paige well and was a great friend for her.
THEN THE ROMANCE HAPPENED.
I feel like the romance became all powerful and took over the story. It went from flirty and witty banter to BOOM AHHH I TOTALLY LOVE YOU. It wasn't insta-love since there was that wonderful period of friendship, which I truly wish had been where the relationship stayed. However the transition between that flirty friendship was done much too fast and when it occurred, there was no going back. It became the driving force in the story and the reason for anything characters would act/say/do/think. The worst part was the romance totally took over Paige and Logan's actual characters. They were awesome on their own, but not so much together. They went from being strong individuals to highly dependant on each other. It felt like Paige was constantly a damsel in distress, waiting for Logan to save her from demons and meanwhile making stupid choices to further her troubles.
Instead of the previously enjoyed one liners, we got cheesy and over dramatic proclamations of love.  This romance truly took over the plot and is the reason Dottie practically disappeared from the story. The little thing  about the demon and warlock war also became something simply not as important as Paige and Logan's true love. It made the characters act unlike themselves quite frankly. Everything else going on in the plot of The Dark World was simply swept under the rug for this typical romance which I just couldn't support.
There's a lot of tropes in The Dark World  too. The mean girl trope is definitely present as the book starts by introducing you to "the Queen Bees" of Paige's school. Of course, they're insanely pretty and mean to Paige for no reason. Which is sooooo realistic, because mean girls are pure evil and just spout rude comments without having any rhyme or reason. Some casual slut shaming just adds to the brilliance of the mean girl trope used in  The Dark World and is so completely necessary to the overall storyline.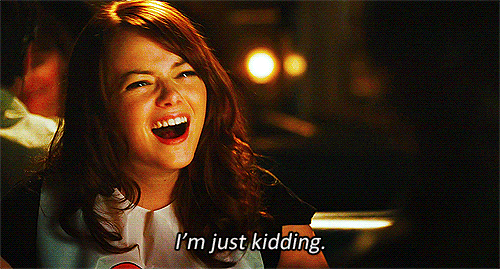 Legitimately, I saw no point to the characters of Pepper (dubbed Paprika by Paige. Clearly that's so insulting) and Andie (her name always followed with mention of her double D's). They had nothing to do with the whole romance between Logan and Paige nor the whole demon and warlock war thing. I suppose the author just added them to further showcase how Paige was an outsider at her school?? Still, I think the whole talking to invisible walls would have covered that one nicely.
Another trope that used in The Dark World  frankly confuses me. So Paige is a special snowflake, she has the sole power to travel between the Dark World and the normal human world. The way she got these powers was through saving this boy from running into the street and dying. In the process she nearly died. However, she came back to life. The boy was apparently persuaded by a demon to run into the road. Therefore Paige somehow got this ability to go into the two worlds and see ghosts!?!?  Don't worry, this isn't a spoiler as you learn this fairly early on in the story. PLUS, IT MAKES ZERO SENSE. So if Paige got this ability from the aforementioned, wouldn't anybody who did the same get her ability. It was odd how everybody was praising her for being such a special snowflake when according to the logic in which she got her abilities, anybody could.
Overall this read was one which started out quite positively but quickly took a turn for the worst when an overbearing romance reared its ugly head. I think your enjoyment of this novel would be highly dependent on whether you enjoyed the romance between the main character and her love interest.
~Thank you Harlequin Teen for sending me this copy!~
The following two tabs change content below.
Larissa was born and still is living in the land of ice, snow and maple syrup. She's 18 years old and really has no idea what to do with her life lately. Larissa's plans are constantly changing--though there's one thing has remained constant throughout her seventeen years, and that's reading. It takes her to another world and puts her into impossible situations and that's why she loves it so much.
Want more posts like this?